Barnsley manufacturer undergoes rebrand to spearhead 2017
A Barnsley-based manufacturer has undergone a major rebrand to align with its ambitious growth and expansion plans for 2017.
Red Dog Linings, formally known as Triten, is anticipating the rebrand will lead to increased growth at the company, a diversified product range and will reposition itself as the UK's largest hardfacing specialist.
The company has rebranded as Red Dog Linings after Triten International acquired Triten Corporation's minority shareholding in Triten International Limited to become a fully independent business.
The company, which employs 85, manufactures hardfaced plate to reduce abrasion and impact in bulk materials processing plants. Following the rebrand, the company will focus on three product lines; hard facing plate, industrial refurbishment and roll reclamation.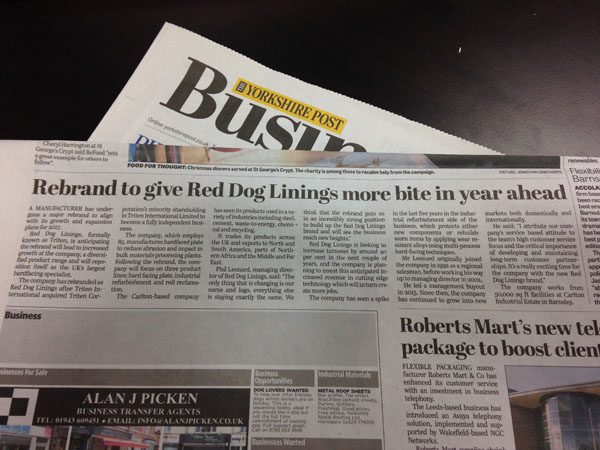 In recent years, the Carlton-based company has seen its products used in a variety of industries including steel, cement, waste-to-energy, chemical and recycling. It trades its products across the UK and exports to North and South America, parts of Northern Africa and the Middle and Far East.
Phil Leonard, managing director of Red Dog Linings, said: "The only thing that is changing is our name and logo, everything else is staying exactly the same. We think that the rebrand puts us in an incredibly strong position to build-up the Red Dog Linings brand and will see the business reach new heights."
Red Dog Linings is looking to increase turnover by around 40 per cent in the next couple of years, and the company is planning to invest this anticipated increased revenue in cutting edge technology which will in turn create more jobs.
Red Dog Linings hardfaced abrasion resistant plate range is manufactured using the bulk welding process, which was pioneered by Triten Corporation, from Houston, Texas in the 1960s, when the world renowned hardfaced alloy, T200X, was developed. Red Dog Linings is now the sole global producer of T200X along with many other alloys and offers a wide variety of thickness combinations and plate sizes dependant on the application and industrial requirement.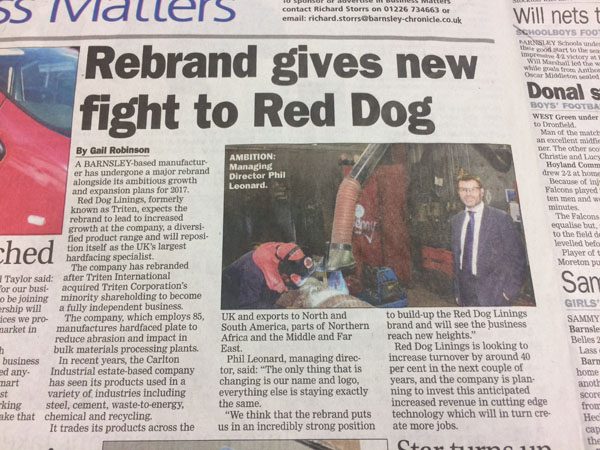 The company has seen a spike in the last five years in the industrial refurbishment side of the business, which protects either new components or rebuilds worn items by applying wear resistant alloys using multi-process hard-facing techniques. This injects new and enhanced service life into worn components, which can be re-used and diverted back into service and away from the scrap bin.
Red Dog roll reclamation is the refurbishment of hardfaced rolls for steel mills, food manufacture and other industries. It also undertakes a wide-range of general engineering projects such as the manufacture and repair of roll bearing housings including heavy duty chocks, roll end furniture, drive shafts and spindles.
Managing Director Phil Leonard, originally joined the company in 1992 as a regional salesman, before working his way up to managing director in 2002. He successfully led a management buyout in 2013. Since then, the company has continued to grow into new markets both domestically and internationally.
He said: "I attribute our company's service based attitude to the team's high customer service focus and the critical importance of developing and maintaining long term customer partnerships.
"It's a really exciting time for the company with the new Red Dog Linings brand. The three areas of manufacturing; hard facing plate, industrial refurbishment and roll reclamation, differentiate us aside from anyone else in the UK with the breadth of services and facilities we offer."
Red Dog Lining' extensive range of services has been developed to provide customers with long life solutions to abrasion and impact problems. The company works from purpose built 50,000 sq.ft facilities at Carlton Industrial Estate in Barnsley.